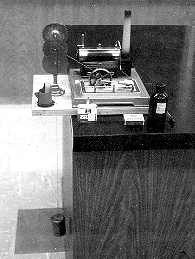 I5-31: STEAM ENGINE - STATIONARY
PURPOSE: Working model of a steam engine.
DESCRIPTION: The engine can be attached to a weight hanging by a string over an axel which is connected to the engine through a series of gears.
SUGGESTIONS:
REFERENCES: (PIRA 4F30.20)
EQUIPMENT: Steam engine with gear train, 1 kg mass on string, engine accessories.
SETUP TIME: 5 min.
---