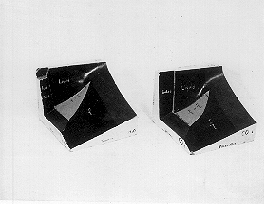 I4-01: PVT PHASE DIAGRAMS FOR CO2 AND H2O
PURPOSE: Three-dimensional PVT phase diagram models.
DESCRIPTION: These are carefully labelled, three-dimensional, four-color pressure-volume-temperature phase diagrams for CO2 and H2O.
SUGGESTIONS:
REFERENCES: (PIRA 4C10.10) Other phase diagram transparencies are available. See Demonstration Reference File.
EQUIPMENT: Phase diagram models for CO2 and H2O.
SETUP TIME: None.
---