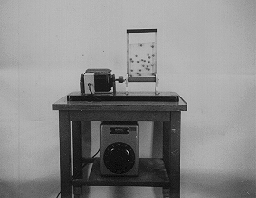 I6-01: GAS PRESSURE - MODEL
PURPOSE: To illustrate the molecular nature of gas pressure.
DESCRIPTION: A vibrator motor is activated causing chaotic motion of a group of ball bearings in a plastic container. The upward motion of the ball bearings pushes a weighted bar upward, indicating the upward force of air pressure on the bar. Increasing the rotational speed of the motor increases the average speed of the balls and pushes the bar up further, modeling a greater pressure.
SUGGESTIONS:
REFERENCES: (PIRA 4D30.00)
EQUIPMENT: Gas pressure model with variac as photographed.
SETUP TIME: None.
---