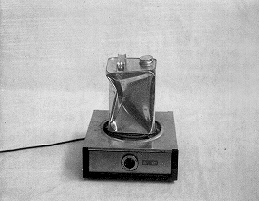 I4-15: CONDENSATION OF STEAM - GALLON CAN COLLAPSE
PURPOSE: To illustrate forces produced by the pressure drop when steam condenses into water.
DESCRIPTION: A small amount of water in the can is heated with the lid off, filling the can with steam. The can is then removed from the hot plate and the lid quickly screwed tightly thereon. Within a few seconds the steam begins to condense, creating a low pressure inside the can. The greater atmospheric pressure outside crushes the can.
SUGGESTIONS:
REFERENCES: (PIRA 2B30.10)
EQUIPMENT: Hot plate, can with lid and small amount of water, gloves.
SETUP TIME: None.
---