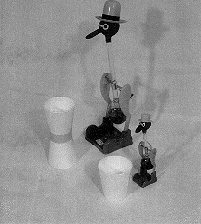 I4-16: DRINKING BIRD
PURPOSE: To stimulate thought about heat exchange and liquid-vapor phase transitions.
DESCRIPTION: The bird's head and beak are initially wetted, and the bird positioned so that its beak will dip into the water cup when it tips (whether or not the cup is there). The liquid is tri-chloro-mono-fluoro methane.
SUGGESTIONS:
REFERENCES: (PIRA 4C31.30) See Demonstration Reference File for article explaining this gizmo.
EQUIPMENT: Drinking bird with water cups.
SETUP TIME: 5 min.
---