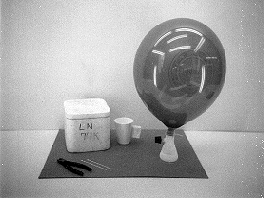 I4-14: CHANGE OF STATE WITH BANG
PURPOSE: Demonstrate that the volume of a gas is much greater than the volume of the same amount of liquid.
DESCRIPTION: Fill the small beaker with liquid nitrogen, place the balloon over the top, and stopper the small nipple opening. As the liquid nitrogen turns to gas its volume increases, ultimately bursting the balloon. This is a change of state with a bang, hee, hee, har, har.
SUGGESTIONS:
REFERENCES: (PIRA 4C30.35)
EQUIPMENT: Liquid nitrogen, small flask, balloon, and necessary tools.
SETUP TIME: None.
---