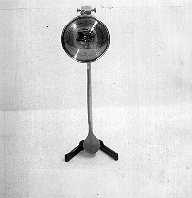 I3-01: BAROMETER - ANEROID TYPE
PURPOSE: To indicate air pressure.
DESCRIPTION: The barometer measures air pressure in the closed system; squeezing the bulb increases the air pressure. Pressure readings below ambient atmospheric pressure can be obtained by removing the tube and holding the bulb squeezed while replacing the tube.
SUGGESTIONS:
REFERENCES: (PIRA 2B35.40
EQUIPMENT: Aneroid barometer.
SETUP TIME: None.
---