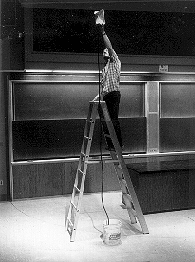 I3-12: WATER BAROMETER - CAN CRUSHER
PURPOSE: To illustrate a result of atmospheric pressure.
DESCRIPTION: A rectangular can, connected to a long rubber hose, is filled with water from a large reservoir. The can is then raised about 15 feet, keeping the end of the hose in the water reservoir. The pressure differential between the inside and the outside of the can crushes the can as the water runs out in about 30 seconds.
SUGGESTIONS: Requires a high ceiling!
REFERENCES: (PIRA unavailable.)
EQUIPMENT: Rectangular can with special cap and 15 feet of thick-walled rubber hose, large plastic water reservoir.
SETUP TIME: 5 min.
---