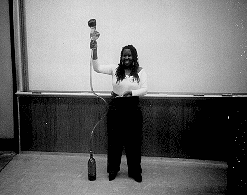 I3-11: WATER BAROMETER - BOTTLE COLLAPSE
PURPOSE: To demonstrate the pressure in a water column.
DESCRIPTION: Two plastic bottles are connected by a plastic tube and the entire system is mostly filled with water. Holding either of the two bottles up in the air causes that bottle to collapse.
SUGGESTIONS:
REFERENCES: (PIRA unavailable.)
EQUIPMENT: Two 2-liter soda bottles filled with water connected by tubing.
SETUP TIME: None.
---