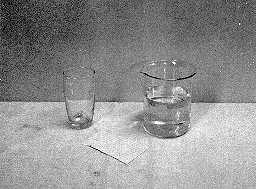 I3-13: INVERTED GLASS OF WATER
PURPOSE: To show one result of atmospheric pressure.
DESCRIPTION: Fill a glass with water and lay a 3x5 card on the top. Holding the card and glass together, turn them upside down and release the card. Tilt the glass slightly. Atmospheric pressure holds the card onto the opening of the glass. P>
SUGGESTIONS:
REFERENCES: (PIRA 2B30.46)
EQUIPMENT: Glass, beaker of water and 3x5 card.
SETUP TIME: None.
---