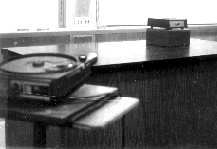 I2-43: CONVECTION - HOT PLATE
PURPOSE: To see convection currents.
DESCRIPTION: The irregular refraction patterns created by convection currents in air heated from below are easily seen when a light from a projector shines through the air onto a screen. This phenomenon is often seen when the sun shines brightly onto surfaces like cars and roads, and is responsible for the twinkling of stars.
SUGGESTIONS:
REFERENCES: (PIRA 4B20.45) See also demonstration E2-47: TWINKLING STAR.
EQUIPMENT: Hot plate and point source of light.
SETUP TIME: None.
---