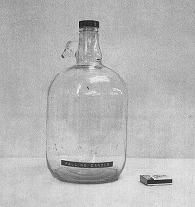 I2-42: FALLING CANDLE
PURPOSE: To demonstrate that gravitational force is necessary for convection.
DESCRIPTION: A candle, attached to the lid of a one-gallon jug, is lit and the lid screwed onto the upside-down jug. Throw the upside-down jug into the air and catch it or hold the upside-down jug high and drop it and catch it as it falls. While it is falling, the system inside the jar is in a weightless environment, so convection currents cease. In normal burning, the hot air rises by convection, allowing cooler air containing more oxygen to continuously feed the fire. Without these convection currents the candle immediately goes out.
SUGGESTIONS: Please catch the jug before it hits the floor. This is sort of a funny experiment, and may not work quite right all the time. Practice may be necessary.
REFERENCES: (PIRA 1G20.10)
EQUIPMENT: Glass jug, candle and matches.
SETUP TIME: None.
---