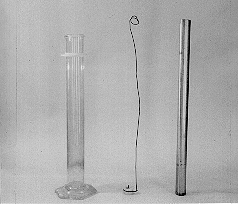 I2-44: CONVECTION - CANDLE IN CYLINDER
PURPOSE: To demonstrate the mechanism of convection.
DESCRIPTION: A lighted candle lowered into the graduated cylinder goes out quickly because the buildup of gaseous products of combustion at the bottom of the tube prevents it from getting oxygen. Lowering the smaller tube into the larger graduated cylinder just above the candle flame separates the rising hot air from the falling cold air, allowing convection currents to feed oxygen to the candle flame.
SUGGESTIONS:
REFERENCES: (PIRA 4B20.25)
EQUIPMENT: Large graduated cylinder, small tube, candle on wire support with matches.
SETUP TIME: None.
---