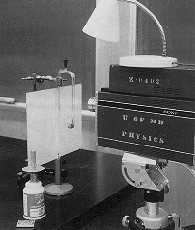 I2-41: CONVECTION - POWDER IN WATER
PURPOSE: To illustrate convection.
DESCRIPTION: Heat one side of the tube, and the water will rise on that side by convection, carrying the powder, which makes the convection visible. To avoid overheating and destroying the apparatus, heat only for about ten seconds in a blast. Before beginning, rotate the entire apparatus so that the powder is uniformly distributed. The lamp illuminates the apparatus for the TV camera, which can then be displayed on the video projector in the lecture halls.
SUGGESTIONS:
REFERENCES: (PIRA 4B20.10)
EQUIPMENT: Pre-assemblaed convection tube apparatus with water and carbon powder, gas burner, TV camera with 15 cm close-up lens and goose-neck lamp.
SETUP TIME: 5 min.
---