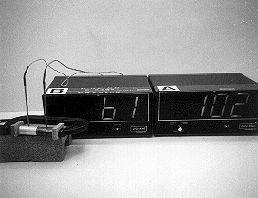 I2-27: THERMAL EQUILIBRIUM BETWEEN ALUMINUM AND COPPER
PURPOSE: Show process of thermal equilibrium happening between touching aluminum and copper cylinders.
DESCRIPTION: A digital thermometer probe is stuck into small holes on the top of pieces of copper and aluminum, which are held together by a C-clamp. Put a flame under one of the blocks to cause a temperature difference. Remove the flame and watch the two metal blocks come into thermal equilibrium.
SUGGESTIONS:
REFERENCES: (PIRA unavailable.)
EQUIPMENT: Aluminum and copper cylinders, wood blocks (insulating ends of metal cylinders from the C-clamp), cinder block base, two digital thermometers.
SETUP TIME: 5 min.
---