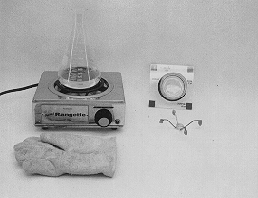 I2-23: THERMAL CONDUCTIVITY IN METALS - PROJECTION
PURPOSE: To compare heat conductivity in four metals.
DESCRIPTION: Place conductivity demonstrator in hot water bath on overhead proector. Tabs on the ends of the arms are held on with wax, which melts when sufficient heat is conducted from the hot water along the arm. The tab on the metal with the highest heat conductivity will drop off first.
SUGGESTIONS:
REFERENCES: (PIRA 4B30.25) See Demonstration Reference File for information on this demonstration, a copy of which is delivered with the demonstration.
EQUIPMENT: Overhead projector conductivity apparatus with hot water, flask, and hot plate, overhead projector.
SETUP TIME: 5 min.
---