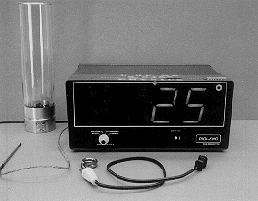 I2-24: THERMAL CONDUCTIVITY IN WATER
PURPOSE: To demonstrate that water is a poor conductor of heat.
DESCRIPTION: An immersion heater placed at the top of a dewar of water causes the water near the top of the dewar to boil. However, heat is not readily conducted through the water to the bottom, and the bottom remains at a much lower temperature even 15-20 minutes after the water on top begins to boil.
SUGGESTIONS:
REFERENCES: (PIRA 4B30.60)
EQUIPMENT: Dewar of water, immersion heater, digital thermometer.
SETUP TIME: 5 min.
---