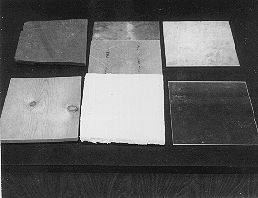 I2-22: THERMODYNAMICS BY TOUCH
PURPOSE: To show that touching the materials tells us their conductivity, not necessarily their temperature.
DESCRIPTION: Various materials, all at room temperature, are arranged on a cart, and students are invited to touch them. The observations made can then form the basis for an intense classroom discussion on temperature and conductivity.
SUGGESTIONS: Everyone should try it! Have the class vote on which plate is the coldest and which is the warmest!!! Or maybe they should vote on which material has the greatest conductivity.
REFERENCES: (PIRA unavailable.)
EQUIPMENT: Sheets of copper, aluminum, steel, slate, plastic, wood, and styrofoam, with conductivities in that order.
SETUP TIME: None.
---