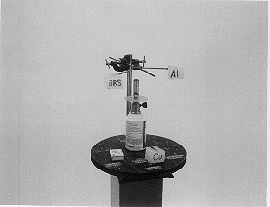 I2-21: THERMAL CONDUCTIVITY OF METALS
PURPOSE: To demonstrate differences in thermal conductivity of metals.
DESCRIPTION: Heat from a gas burner at the center is conducted along rods of copper, aluminum, and brass. Wax blocks at the ends of the rods melt and drop off the rods due to the conduction of heat, in the following order: copper (3.98 Watts/cm deg C), aluminum (2.37 Watts/cm deg C), and brass (1.23 Watts/cm deg C).
SUGGESTIONS:
REFERENCES: (PIRA 4B30.10) See Demonstration Reference File for further information.
EQUIPMENT: Mounted thermal conductivity apparatus with burner and wax blocks.
SETUP TIME: None.
---