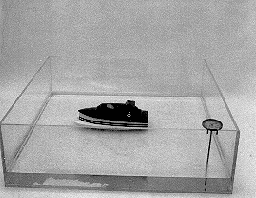 I1-73: SHAPE-MEMORY ALLOY - COOL CRAFT
PURPOSE: To illustrate shape-memory alloy.
DESCRIPTION: A few cubes of ice are placed into the boat and the boat is placed in a water bath at about 27-38 degrees celcius. If the red wheel is spun forward the NITINOL wire will function as a heat engine and propel the boat.
SUGGESTIONS:
REFERENCES: (PIRA 4F30.60)
EQUIPMENT: Cool Craft boat, tank of warm water, ice cubes, dial thermometer.
SETUP TIME: 5 min.
---