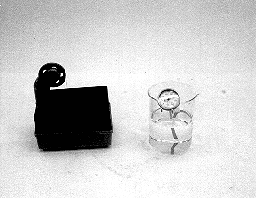 I1-72: SHAPE-MEMORY ALLOY - ICEMOBILE
PURPOSE: To illustrate shape-memory alloy.
DESCRIPTION: A thin NITINOL wire loop is connected around two pulleys. The lower pulley is placed half way into the water at 35-40 degrees celcius and an ice cube gently touched to the wire. If the wire is gently spun downward through the ice cube into the water bath, it will continue to spin, cutting the ice cube in two.
SUGGESTIONS: Do not bend or stress wire or the memory may be changed. If ice forms on the wire, melt it by immersing the wire in the water.
REFERENCES: (PIRA 4F30.60)
EQUIPMENT: Icemobile ice cutter assembly, beaker of warm water, ice cubes, dial thermometer.
SETUP TIME: 5 min.
---