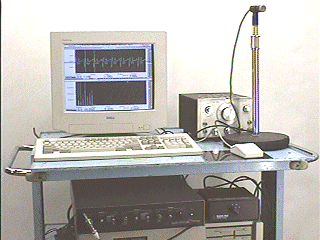 H6-01: FOURIER ANALYSIS OF VOICE
PURPOSE: To determine the Fourier spectrum of various steady-state spoken and sung vocal (vowel) sounds.
DESCRIPTION: The amplified microphone signal is input into the PC 486 based FFT and the wave shape and spectrum are displayed on a dual trace digital oscilloscope screen. Vocal formants for different sung vowel sounds can also be seen.
SUGGESTIONS:
REFERENCES: (PIRA unavailable.) See Demonstration Reference File for manuals and other information.
EQUIPMENT: PC 486 with Rapid Systems FFT and Dual Trace Oscilloscope, microphone and amplifier for input.
SETUP TIME: 5 min.
---