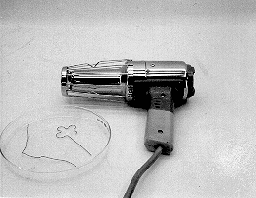 I1-74: SHAPE-MEMORY ALLOY - CLOVER
PURPOSE: To illustrate shape-memory alloy.
DESCRIPTION: Gently bend the clover-shaped NITINOL wire and heat it with a match or the heat gun to return it to its original shape. For large groups place the clover in a glass container on an overhead projector platform before heating with the heat gun.
SUGGESTIONS:
REFERENCES: (PIRA 4F30.60)
EQUIPMENT: Clover and heat gun.
SETUP TIME: None.
---