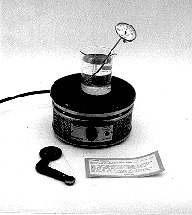 I1-71: SHAPE-MEMORY ALLOY - THERMOBILE
PURPOSE: To illustrate shape-memory alloy.
DESCRIPTION: A loop of 0.012 inch NITINOL wire is wound around an upper plastic pulley and a lower brass pulley. When the lower brass pulley is immersed about half way into water at 80 degrees celcius, the wire rotates, acting as a heat engine.
SUGGESTIONS: Do not overheat wire or the memory may be changed.
REFERENCES: (PIRA 4F30.60)
EQUIPMENT: Thermobile, beaker of hot water on hot plate, dial thermometer.
SETUP TIME: 5 min.
---