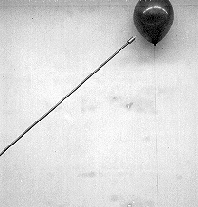 I1-63: HYDROGEN EXPLOSION
PURPOSE: To produce a hydrogen explosion.
DESCRIPTION: A balloon filled with hydrogen is tethered about six feet above head level. The burning candle on a stick is positioned under the balloon, creating the hydrogen explosion.
SUGGESTIONS: Don't hug the balloon.
REFERENCES: (PIRA unavailable.)
EQUIPMENT: Tethered hydrogen balloon, candle on stick, matches.
SETUP TIME: 10 min. (Hydrogen must be obtained from the Welding Shop.)
---