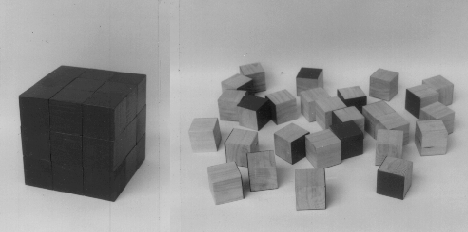 I1-62: DUST EXPLOSION MODEL
PURPOSE: To show why small particles of flammable material can create a dust explosion when ignited.
DESCRIPTION: The large cube, red on the outside, is broken into 27 smaller cubes, increasing the surface area but not the volume. Note that only a small fraction of the total area of the small cubes is red! The ability of a material to burn or even explode (burn very rapidly) increases with its surface area. This illustrates why clouds of small particles, such as wheat or sawdust, may produce a "dust explosion."
SUGGESTIONS:
REFERENCES: (PIRA unavailable.)
EQUIPMENT: Dissectible cube.
SETUP TIME: None.
---