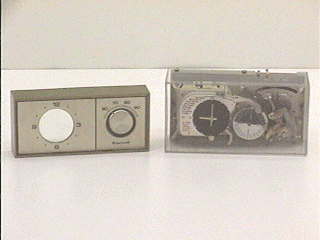 I1-18: BIMETALLIC STRIP THERMOMETERS
PURPOSE: Allow students to see how bimetallic strips are used in thermometers and thermostats.
DESCRIPTION: The case has been removed from a thermometer and thermostat mechanism for a household furnace thermostat. Important parts such as the bimetallic strip and the mercury switch are clearly visible.
SUGGESTIONS: Pass around class.
REFERENCES: (PIRA unknown.)
EQUIPMENT: Cutaway Honeywell thermometer and visible Chronotherm thermostat mounted in plastic box.
SETUP TIME: None.
---