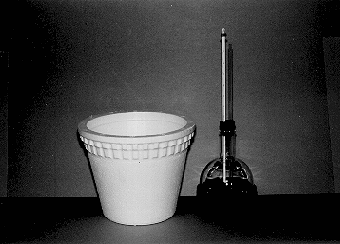 I1-21: WATER NEAR 4 DEGREES CELCIUS
PURPOSE: To demonstrate that the maximum density of water occurs around 4 degrees centigrade.
DESCRIPTION: A quartz flask (very small thermal expansion) holds water at 0 degrees centigrade (in an ice bath). The water fills the entire volume under the stopper and extends up into a capillary tube. When the flask is removed from the ice b ath its temperature rises, as can be read on the thermometer. The water level in the capillary tube initially goes down, but reaches a minimum level at about 4 degrees and then rises as the temperature continues to increase..
SUGGESTIONS:
REFERENCES: (PIRA 4A20.35)
EQUIPMENT: Quartz flask with water, rubber stopper, thermometer, capillary tube, container of ice.
SETUP TIME: 10 min.
---