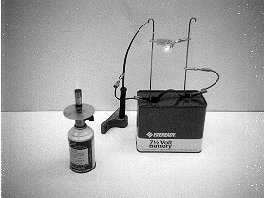 I1-17: THERMOSTAT - MODEL
PURPOSE: Model of use of a bimetal strip in a thermostat.
DESCRIPTION: Heat the bimetal strip so that it curves toward the wire. When it touches the wire it completes the circuit, lighting the bulb. Actually, this is just the opposite of a thermostat, but it gets the point across. Come to think of i t, moving the bimetal strip slightly will change this so that the light goes off when the strip curves, just like a real thermostat turns off the power to the furnace.
SUGGESTIONS:
REFERENCES: (PIRA 4A30.11)
EQUIPMENT: Bimetal strip with gas burner, battery with lead wires and clip-on light bulb.
SETUP TIME: None.
---