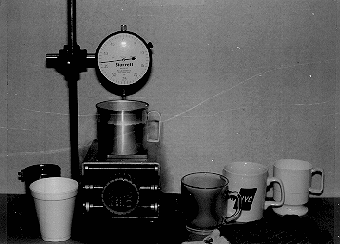 I1-16: THERMAL CONTRACTION OF CUPS WITH LN
PURPOSE: To measure coefficients of linear expansion.
DESCRIPTION: A cup rests on a fixed platform with the rim of the cup under the feeler gauge. Pour liquid nitrogen into the cup to make it contract and read the length contraction (ha! ha!) on the gauge.
SUGGESTIONS:
REFERENCES: (PIRA unavailable.)
EQUIPMENT: Cups of steel, brass, ceramic, plastic, glass and styrofoam, labjack, dial micrometer on stand, glass plate (under cups), glove and ruler.
SETUP TIME: 5 min.
---