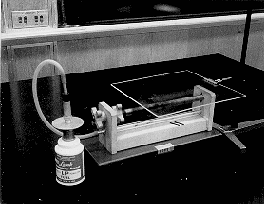 I1-15: THERMAL EXPANSION - PIN BREAKER
PURPOSE: To demonstrate thermal expansion in a dramatic way.
DESCRIPTION: A pin is inserted into a hole in a long steel rod, one end of which is fixed on the apparatus. The pin sticks out of the hole and rests against a fixed plate. When the rod is heated it expands such that the pin pushes against the plate until the pin snaps. This is a fairly dramatic demonstration which illustrates the magnitude of the forces which can build up during thermal expansion.
SUGGESTIONS:
REFERENCES: (PIRA 4A30.30)
EQUIPMENT: CENCO Pin Breaker, pins, gas and matches.
SETUP TIME: None.
---