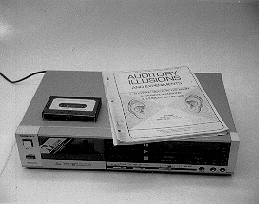 H5-45: AUDIOTAPE 32 MIN - AUDITORY ILLUSIONS AND EXPTS
PURPOSE: To illustrate a variety of audio effects and illusions.
DESCRIPTION: Contents: AUDITORY BEATS IN THE BRAIN: Introduction; Changing Binaural Beats; Perception of Beat Intensities; Masking Effect of Noise; Perception of Clicks; Sound Pattern of Clicks. MUSICAL ILLUSIONS: Introduction; Two-Tone Sequenc e; A Simple Musical Sequence; Perception of Dissonance. MUSICAL STAIRCASE: Stepping Up; Gliding, Soaring; Explanation, Gliding.
SUGGESTIONS: Neat ones are the monaural and binaural click illusions, which require individual listening using stereophones.
REFERENCES: (PIRA unavailable.) See Demonstration Reference File for written descriptions, a copy of which is kept with the cassette.
EQUIPMENT: Cassette tape with player.
SETUP TIME: None.
---