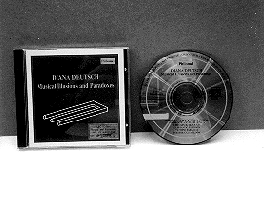 H5-46: COMPACT DISC - MUSICAL ILLUSIONS AND PARADOXES
PURPOSE: Demonstrate sound illusions.
DESCRIPTION: This disc contains a variety of musical illusions, many of which must be heard using stereo headphones, but a few of which are useful in a class when played on a speaker system. Included are: (1) Introduction, (2) Octave Illusion, (3) "High-Low," (4) Scale Illusion, (5) Chromatic Illusion, (6) Glissando Illusion, (7) Tritone Paradox, and (8) Mysterious Melody.
SUGGESTIONS:
REFERENCES: (PIRA unavailable.) Further description, including ordering information is on the web site of Diana Deutsch: http://www.philomel.com , with a paper copy in the Demonstration Reference File.
EQUIPMENT: Musical Illusions and Paradoxes compact disc with audio cart.
SETUP TIME: None.
---