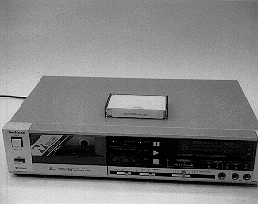 H5-44: AUDIOTAPE 55 MIN - AUDIO DEMONSTRATIONS
PURPOSE: To illustrate a variety of audio demonstrations and effects.
DESCRIPTION: Side 1: Several types of organ pipes - pure tones, octave, Two steady pure tones - whole tone and half tone separation; 500 Hz and 2 kHz, left - 1 kHz right; Frequency modulated signals for pitch; Square and triangular wave frequency modulations; Beats (mistuned unison) at 1 kHz and 500 Hz; One steady frequency with one swept frequency; Beats (mistuned octave); Fundamental tracking; Beats - actual performance; Woodwind trio - two acoustical environments.
Side 2: Broad band white noise - 20Hz-20kHz; Bands of white noise - various center frequencies and band widths; Five spoken and instrumental passages - recorded in anechoic chamber and played back in different acoustical environments; Narrow band noise signals and reverberation in hall measurements.
SUGGESTIONS:
REFERENCES: (PIRA unavailable.) See Demonstration Reference File for detailed written description, a copy of which is kept with the cassette.
EQUIPMENT: Cassette with player.
SETUP TIME: None.
---