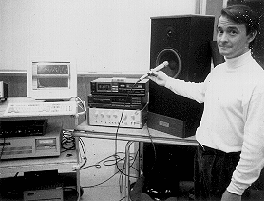 H4-65: CROSSOVER NETWORK FOR SPEAKERS
PURPOSE: To demonstrate the operation af a crossover network.
DESCRIPTION: With white noise playing through the system, the fact that high frequencies come through the tweeter, while the lower frequencies come more through the woofer, can easily be demonstrated. A microphone can be held in front of either the woofer or the tweeter, and the microphone signal input into the spectrum analyzer. (See Demonstration H4-02.)
SUGGESTIONS:
REFERENCES: (PIRA unavailable.)
EQUIPMENT: Audio cart with audiocassette of white noise, Large Advent loudspeakers, microphone with pre-amp, and 486 PC with Rapid Systems spectrum analyzer.
SETUP TIME: 10 min.
---