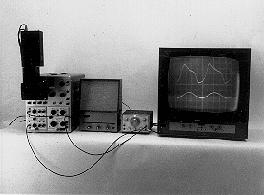 H4-64: DISTORTION IN AUDIO AMPLIFIER
PURPOSE: To demonstrate distortion due to over-driving an audio ampifier.
DESCRIPTION: Raising the input signal level past its linear range creates distortion in the output signal, which can be seen on the upper trace of the scope by comparison with the input signal, which is shown on the lower trace. The change in sound, resulting from the creation of additional harmonics, can be easily heard.
SUGGESTIONS:
REFERENCES: (PIRA unavailable.)
EQUIPMENT: Oscillator, 10-watt amplifier, loudspeaker, and dual trace oscilloscope, on scope/TV cart.
SETUP TIME: 5 min.
---