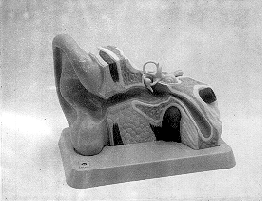 H5-01: EAR MODEL
PURPOSE: To illustrate the parts of the ear, their spatial relationships, and their functions.
DESCRIPTION: This model nicely shows how the major organs of the ear are physically arranged. The bone chain, the cochlea, and the semicircular canal assembly are removeable. The fact that space is three-dimensional leads to the necessity of three orthogonal semicircular canals, which can easily be seen.
SUGGESTIONS:
REFERENCES: (PIRA 3C10.10) See Demonstration Reference File for background information.
EQUIPMENT: Ear model.
SETUP TIME: None.
---