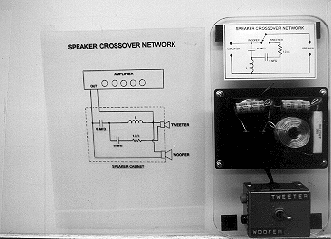 H4-66: CROSSOVER NETWORK - LARGE ADVENT
PURPOSE: To show circuit and components of a passive crossover network and how the crossover network functions.
DESCRIPTION: A crossover network was taken from an old Large Advent loudspeaker system which was destroyed in a steam bath. The components have been mounted on a plastic base to which a loudspeaker can be attached and into which a signal may be input. A signal such as the sine wave from an oscillator is input into the network, its frequency adjusted, and the loudspeaker switched between the woofer and the tweeter position in the circuit, demonstrating how the crossover network directs various frequencies into the appropriate loudspeaker.
SUGGESTIONS:
REFERENCES: (PIRA unavailable.)
EQUIPMENT: Oscillator, crossover network mounted with circuit on plastic board, and loudspeaker.
SETUP TIME: 5 min.
---