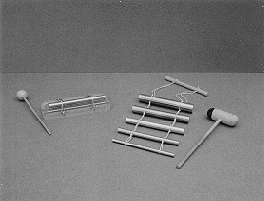 H3-73: TUNING RODS - SUSPENDED
PURPOSE: To illustrate transverse standing waves in aluminum rods.
DESCRIPTION: Hold the series of rods by the wooden dowel and strike a rod sharply at its center to excite the lowest frequency transverse standing wave.
SUGGESTIONS: Before making any noise, ask the students which of the five rods of different diameter will produce the highest or lowest note. Which will have a higher frequency if struck on the end with a longitudinal blow?
REFERENCES: (PIRA 3D40.12)
EQUIPMENT: Aluminum rods with varying diameter, suspended as shown, with rubber hammer.
SETUP TIME: None.
---