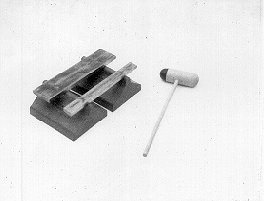 H3-74: TUNING BAR PARADOX - EFFECT OF WIDTH
PURPOSE: To illustrate transverse vibrations of a solid bar struck in the center.
DESCRIPTION: When struck on top center with a rubber mallet, like a xylophone or marimba, the narrower bar on the right in the photograph above vibrates with a frequency f. Q: Will the frequency of the larger bar on the left, which has the same length and thickness as the smaller bar, but twice the width, be greater than, less than, or the same as the frequency of the smaller bar? A: The frequency will be the same for transverse vibrations.
SUGGESTIONS: Ask the students before doing the experiment.
REFERENCES: (PIRA unavailable.)
EQUIPMENT: Two machinist's parallels, 6"x1/4"x1/2" and 6"x1/4"x1", rubber support blocks, and mallet.
SETUP TIME: None.
---