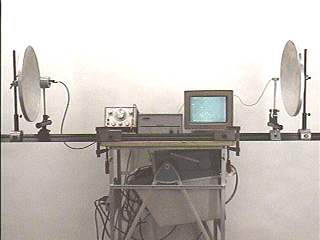 H2-01: FOCUSING OF SOUND WITH CONCAVE REFLECTORS
PURPOSE: To demonstrate how sound waves can be focused by concave reflectors.
DESCRIPTION: Set the oscillator at about 3000 Hz for best results. Install speaker at the focus of one reflector and microphone at focus of second reflector; the oscilloscope views the microphone output. With the positions of all elements opt imized the sound from the speaker reflects off its mirror to create a beam of sound, which is focused by the second mirror onto the microphone. All elements may be adjusted to verify the existence of foci.
SUGGESTIONS:
REFERENCES: (PIRA 3B35.30)
EQUIPMENT: Oscilloscope, oscillator, small speaker and microphone mounted on cross-carriages, mic amplifier, two concave parabolic mirrors on fixed mounts, flat carriages with C-clamps to attach to scope cart.
SETUP TIME: 10 min.
---