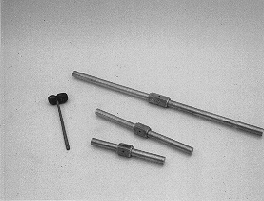 H3-72: TUNING RODS
PURPOSE: To hear longitudinal standing wave resonances in aluminum rods.
DESCRIPTION: Hold the tuning rod by the center fixture and strike it longitudinally on its end with a rubber mallet to excite the standing wave. The three rods pictured are calibrated: 5000 Hz, 10,000 Hz, and 15,000 Hz.
SUGGESTIONS:
REFERENCES: (PIRA 3D40.12)
EQUIPMENT: Three tuning rods and rubber mallet.
SETUP TIME: None.
---