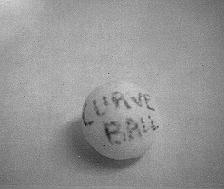 F5-32: CURVE BALL
PURPOSE: To demonstrate a curve ball as an example of the Magnus effect.
DESCRIPTION: Throwing the ball with the appropriate spin will cause it to curve like a baseball pitch, or even to rise. The path of the ball will deviate in the direction the leading edge is rotating - that is, in the opposite direction of the shedding vortices. It will actually curve UP if you let it roll off the end of your fingers when you throw it.
SUGGESTIONS: Practice.
REFERENCES: (PIRA 2C20.60) See Demonstration Reference File for several informative articles.
EQUIPMENT: Styrofoam ball.
SETUP TIME: None.
---