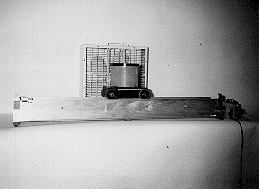 F5-31: MAGNUS EFFECT - FLETTNER'S SHIP
PURPOSE: To demonstrate the Magnus effect.
DESCRIPTION: A rough-surfaced drum rotates rapidly counterclockwise as viewed from above. When the airstream from a fan is blown past the rotating drum from the rear, as shown in the photograph, the cart moves to the left, due to the Magnus effect.
SUGGESTIONS:
REFERENCES: (PIRA 2C20.80) See slide of Flettner ship in our slide file, and film loop MAGNUS EFFECT. Also see Demonstration Reference File for further information.
EQUIPMENT: Cart with spinning drum, track, and fan.
SETUP TIME: 5 min.
---