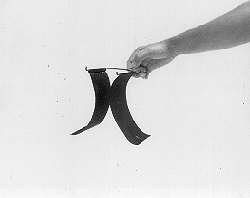 F5-03: BERNOULLI'S PRINCIPLE - THIN METAL SHEETS
PURPOSE: To demonstrate Bernoulli's principle and a model of the vocal cords.
DESCRIPTION: Blow down between the thin sheets. The sheets pull together due to the low pressure caused by the high velocity of the airstream, according to Bernoulli's principle. When the sheets close, air pressure builds up, opening them and restarting the periodic cycle.
This is suggested by many knowledgable persons as a model of how the vocal folds function.
SUGGESTIONS:
REFERENCES: (PIRA 2C20.45)
EQUIPMENT: Mounted aluminum sheets, as photographed.
SETUP TIME: None.
---