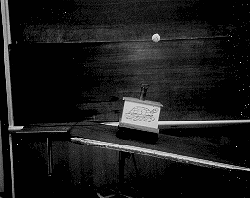 F5-02: BERNOULLI'S PRINCIPLE - BALL ABOVE MOVING CART
PURPOSE: To demonstrate Bernoulli's principle.
DESCRIPTION: A slow cart moves either horizontally or at an angle while creating an air stream which supports a styrofoam ball.
SUGGESTIONS:
REFERENCES: (PIRA 2C20.30)
EQUIPMENT: Bernoulli cart, styrofoam ball, and tilting hospital cart with rubber mat.
SETUP TIME: 5 min.
---