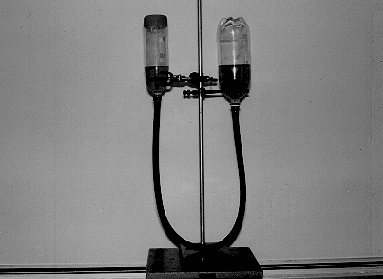 F1-14: PISTON DIAMETER VS TRAVEL - WORKING MODEL
PURPOSE: To show that with an incompressible fluid the bigger piston moves more slowly than the smaller piston.
DESCRIPTION: Raise or lower one of the bottles to observe the relative speeds of the changing water levels. This is what happens in a confined incompressible fluid with pistons on the two water surfaces.
SUGGESTIONS:
REFERENCES: (PIRA unavailable.)
EQUIPMENT: One and two liter bottles with green water, mounted as photographed.
SETUP TIME: None.
---