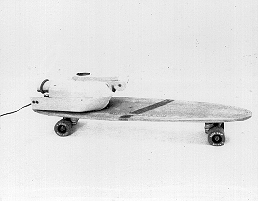 C5-15: REACTION FORCE ON AIR BLOWER
PURPOSE: To demonstrate the third law of motion.
DESCRIPTION: A fan is mounted on a skateboard. The motor is turned on, blowing air out the back of the fan. The reaction force on the skateboard causes the board to move in the direction opposite to the exhausted air.
SUGGESTIONS:
REFERENCES: (PIRA unavailable.)
EQUIPMENT: Vacuum cleaner blower on skateboard, as photographed.
SETUP TIME: None.
---