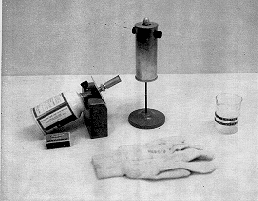 C5-16: HERO'S ENGINE
PURPOSE: To demonstrate action and reaction in a rotational system.
DESCRIPTION: The boiler is partially filled with water and heated until steam is produced. The steam emerges from right-angle arms on the side of the boiler, causing the boiler to rotate in the direction opposite to that of the emerging steam.
SUGGESTIONS: DANGER: Do not tilt burner until it is warm.
REFERENCES: (PIRA 1Q40.80)
EQUIPMENT: Hero's engine, burner with tilt block and matches, water, glove.
SETUP TIME: 5 min.
---