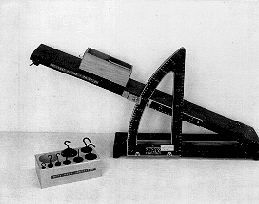 C6-01: INCLINED PLANE - FRICTION BOX AND WEIGHTS
PURPOSE: To show that the coefficient of friction does not depend upon the mass of the object although the frictional force does.
DESCRIPTION: Set the empty box on the incline and increase the angle until sliding ensues. Add weights to the box and repeat the experiment. The weighted box begins to slide at the same angle.
SUGGESTIONS:
REFERENCES: (PIRA 1K20.35)
EQUIPMENT: Inclined plane, friction box, weight set, as photographed.
SETUP TIME: None.
---